At All4Dairy, we are committed to providing you with the best tools and resources to promote and grow your hoof trimming business. Today, we are thrilled to announce the launch of our latest feature, the "Find a Hoof Trimmer" directory!
What is the "Find a Hoof Trimmer" directory? The "Find a Hoof Trimmer" directory is a powerful tool designed specifically for hoof trimmers and farmers. It serves as your online presence and acts as your very own optimized website on the internet. This directory is a game-changer that will help you expand your reach, connect with more farmers, and boost your online visibility on Google.
Key Features of the Directory:
Customized Profiles: Create a personalized profile with your business information, including your address, email, phone number, qualifications, and a brief introduction about your services.
Showcase: Your Work: Display photographs of your previous work and highlight your experience to showcase your skills and expertise to potential clients.
Client Testimonials: Receive testimonials from satisfied farmers. These testimonials will provide valuable social proof and help you attract new farmers.
Search by Location: Users can easily find hoof trimmers in their area, making it convenient for local farmers to connect with you.
Testimonial Approval: All testimonials will go through an approval process to ensure authenticity and maintain the quality of your profile.
Why Use the "Find a Hoof Trimmer" Directory?
Increased Visibility: Improve your online presence and search engine rankings, making it easier for farmers to discover your services.
Client Trust: Showcase your qualifications and client testimonials to build trust with potential customers.
Convenience: Farmers can now find and contact you more efficiently, increasing your chances of securing new clients.
How to Get Started in 4 easy steps:
Go to All4Dairy website or click the button below
Select "Find a Hoof Trimmer"
Select "Create a Trimmer Account here"
Create you account.
We believe that this new feature will be a game-changer for your hoof trimming business, helping you reach new heights and connect with more clients. We are committed to supporting your success every step of the way
If you have any questions or need assistance with setting up your profile, please don't hesitate to reach out to our dedicated support team at info@all4dairy.com
Thank you for choosing All4Dairy as your trusted partner in promoting and growing your hoof trimming business. We look forward to seeing your profile on the "Find a Hoof Trimmer" directory and witnessing your continued success!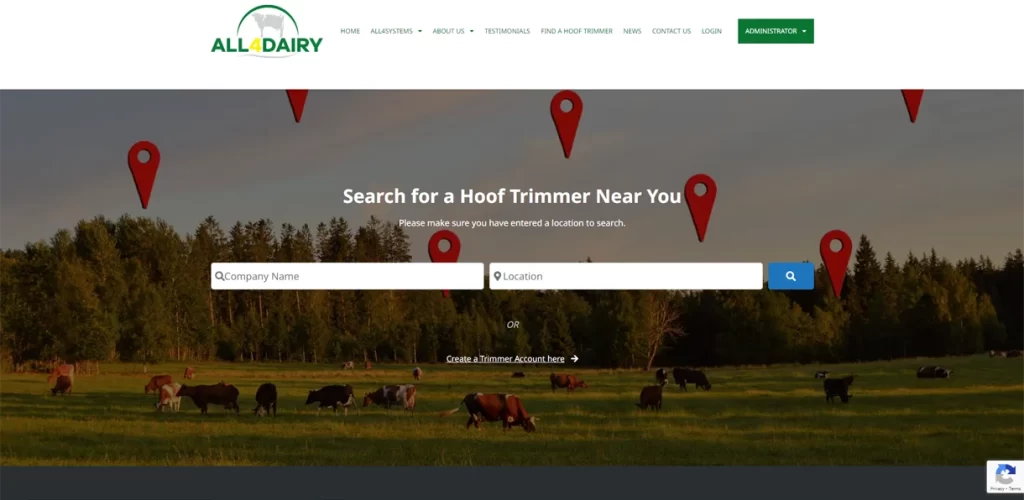 Warm regards,
Charlie Harding CEO